Jewellery created to be unique, like you
& to evolve as per your desire.
LYS & DHEER
LYS & DHEER is a young French brand of customisable bracelets, with an innovative concept of interchangeable cabochons.
Our bracelets are composed of a setting into which to insert beautiful, interchangeable cabochons. Thus, adorning your wrist with a unique piece of jewellery.
Calf or exotic leather, single tour or cuff… Our bracelets, for both men and women, boast as many finishes and colours as temptations.
The cabochons can be inserted and interchanged to create a new style in one swift movement.
Our bracelets are handcrafted in France, with great care given to every detail, bestowing the brand with an exclusive savoir-faire. Custom-made jewellery… the height of style !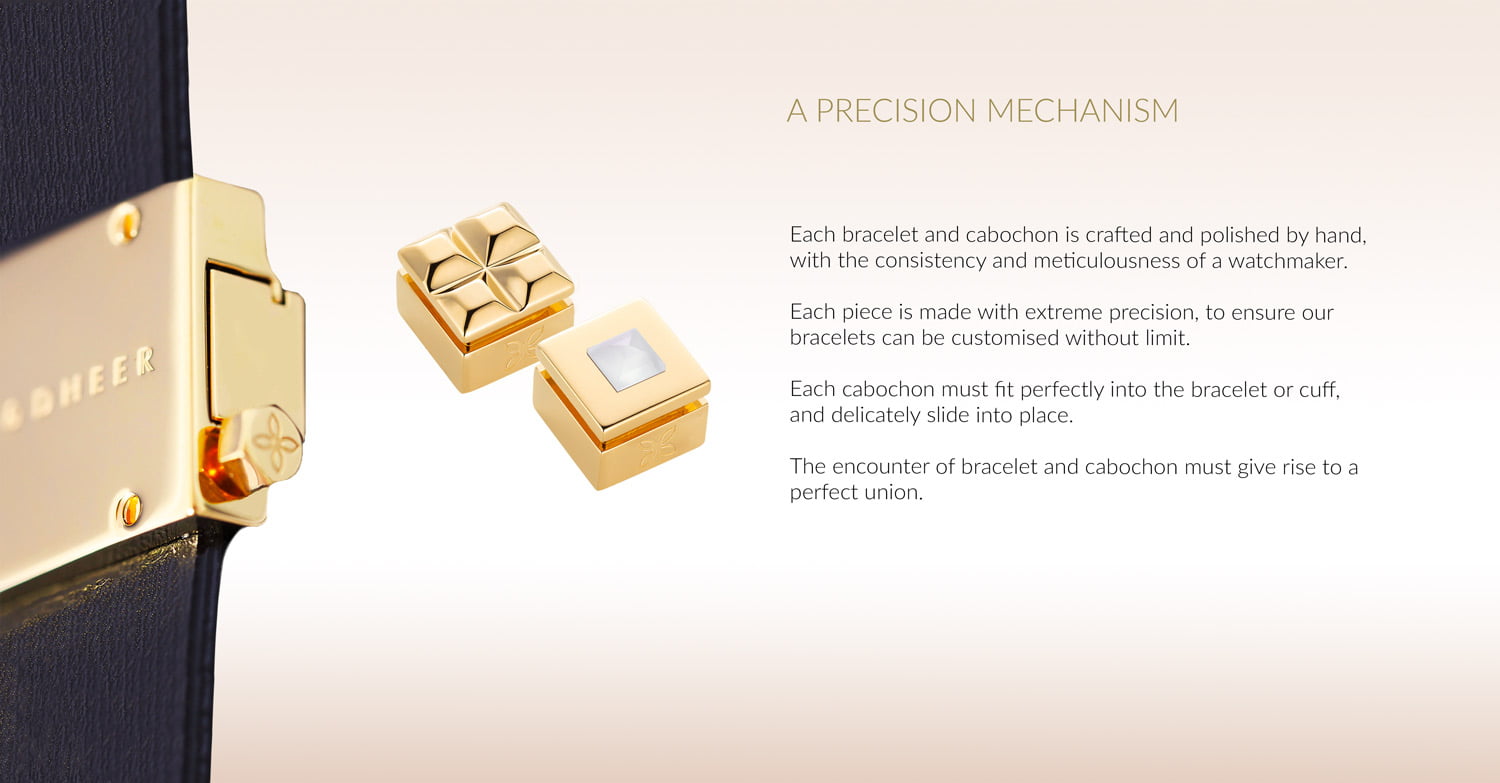 A CUSTOMISABLE & TIMELESS JEWELLERY
Timeless
Most pieces in our collection are timeless, featuring among out classics. We use materials, colours, and designs to withstand the test of time and adapt to all fashions. By adding your own personal touch, you can express yourself with the utmost freedom. Every season, we offer new colours, in line with the latest trends, that enhance our collection. Some colours are limited editions !
Customisable
Because from the infinite, is born the unique. Because there are as many styles as men and women. Because the dictatorship of good taste is over. LYS & DHEER is more than jewellery, it is a cry from the heart, an affirmation, a burst of freedom. Jewellery that you can create, in a playful and simple manner, in harmony with your soul.
Evolving
Creating a bracelet evolves with you… Therein lies the heart of our challenge. To honour our promise of timeless and customisable jewellery, we design bracelets that transform with you.
"You're not the same every day, so why should your jewellery be ?"
Wearing a LYS & DHEER piece is a declaration of who you are, as per your desires, moods and, at times, contradictions.
Find out more about our responsible commitment ->
A BRACELET HANDCRAFTED IN FRANCE, A PROMISE OF IMPECCABLE QUALITY
French Crafstmanship
In order to guarantee an impeccable quality and finish, we work with the very best French workshops. As genuine "artists of leather", our craftsmen stand out for their unique attention to detail and savoir-faire, always in search of excellence.
Find out more about our responsible commitment ->
Our quality commitment
We are committed to the quality and longevity of our products. All our bracelets are made in France, guaranteeing an impeccable quality of finish. The cabochons and bracelet settings are plated with 24-carat gold or palladium, using a galvanisation process to ensure your jewellery retains its colour and shine, without leaving any marks on your skin.
Our leathers
We are particularly mindful of the quality of our products hence all our leather comes from the most prestigious French or Italian tanneries. We work exclusively with noble materials such as veal or lamb. These leathers are the most coveted by luxury houses for the finesse of their grain, shine and rarity.
Our exotic leathers
Lizard and water snake are precious leathers. Both are characterised by their natural texture, which lends them their own unique signature. The lizard's smooth scales reflect the light, creating elegant, nuanced colours. The water snake has small smooth scales in the shape of diamonds.
Find out more about our responsible commitment ->
OUR NATURAL STONES
All our stones are hand-cut in a "stud" model, reworked by LYS & DHEER. We redesigned the volumes and facets to create our Iceberg collection. Each of our gems is handpicked in order to offer the widest possible range of combinations and to enhance the gold or palladium by playing on reflections. Our stones are all of natural origin and comply with the AAA classification, certifying their excellence and quality in terms of colour, shine, and size.
Find out more about stones and meanings ->
THE FOUNDERS
In our words
If we had to use one word to describe LYS & DHEER, it would be "freedom".
We therefore decided to create liberated jewellery. Free to express itself, free to evolve.
We are the creators and LYS & DHEER, but you are the designer.
Our jewellery reflects our perception of what is beautiful and sophisticated, but each and every one of you can interpret your own vision by customising our pieces.
We love discovering your creations and watching your jewellery come to life. You may see us from time to time at the Printemps shop, in Paris, for the simple pleasure of creating your bracelet alongside you.
Thank you to all our customers for the trust you place in us. We are deeply committed to offering you more and more possibilities and to maintaining our quality and service!
Ludivine & Cédric